To start it off, there was training, training & you guessed it!....
more training!
(pictures of the friendly will be up soon)
presenting our Bday club member for the month of june: Lifang!
and to end it with a bang, we had a kickass barbeeeeQ to celebrate the excellent effort & team spirit shown at the friendly matches.
now for the awards : MVP (male) - Jordan!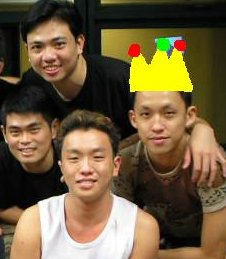 Best male camper, also our goalkeeper - Eric!
MVP (female) - rene &
Best female camper - shyne!
to upload pictures of the camp, click
here
.
encore pics : kitties, babes gettin twisted, snoring machines and a la bi posing in anticipation of ni ni. come on now, everybody say AWWwwwwwww....
but before we end this post on the camp,
the SIM floorball club members would like to extend our heartfelt thanks to NTU hall 12 for the generous hospitality shown towards us. We wish you good luck for your future camps and upcoming orientation activities.