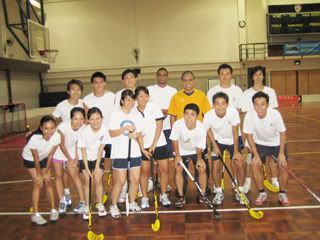 The Singapore Institute of Management (SIM) scored 6-5 against The Republic Polytechnic (RP) on the 24 March 2005. The victory gave the SIM team a reason to celebrate. They have been training even harder since their victory against the Singapore Polytechnic (men's team). In this game, goals were scored by
Charm with 3 goals
,
Gary with 1 goal, Phillip with 1 goal

and an

Own Goal by the RP.
SIM's Man of the Match went to Charm, not because of the number of goals but because of the spirit that he showed there. It is still early to say how good the SIM Team is, but this we are sure of is that the SIM Team showed more then just winning but team spirit. Till next time guys and gals for another floorball update!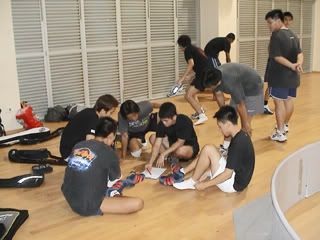 These are the Strategists at work.
okie with that, if any of you guys out there are interested in Floorball, all are welcome to join us. Those who have no history of floorball experience, beginers, amatures and professional can join us too! For those interested and would like to find out more, you can e-mail us at:
simfloorball@hotmail.com
and we will reply you ASAP. Suggestions and comments on the site are welcome. You can check out the rest of the pictures at
http://photobucket.com/albums/v644/simfloorball/
So you are all welcome! Hope to hear from you guys soon! Watch out for this site for our training and meeting schedules and venues as it will be updated constantly. *Many thanks to the Committee for this training session and also the Publication Team for managing the website and Photography.* Those who needs to save or use the pictures for any sites or personal use, please do e-mail us and get permission from the Publication Team. Thank you.