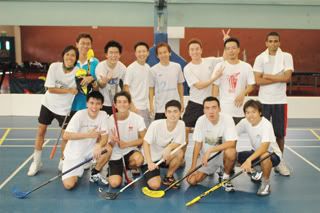 On 19 March 2005 saw the floorball team of SIM had their friendly match against the Singapore Polytechnic Floorball Team. It was a good match for the SIM Men's Team and the Ladies's Team. The Men's Team went to victory with a score of 5 - 4. Scorers were Gary (2 goals), Charm, Alvin (2 goals). The Man of the Match was Adrian. The Men's Team in the previous friendly against NTU Hall 12 lost 1-6 (Goal scored by Ming Chong). That did not put them down and what they had learned from the previous lesson has led them to a good match. This victory has not turned them to be complacent but rather to be even more motivated to continue improving their skills as floorball players.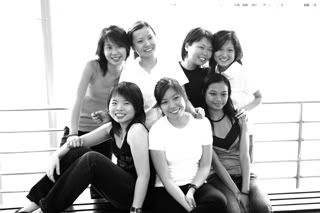 The SIM Ladies's Team had their first friendly match on the same day which they lost 0-7 to the Singapore Polytechnic Ladies's Team. However they showed sportsmenship throughout the game and gave their best every minute of the game. No matter how gloomy the score may seem, they were spured on to give their best. In a way they too were victorious because they knew that they had not went back empty handed. What they had achieved were very valuable experiences and bonding within the team and these are priceless.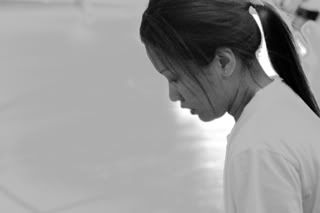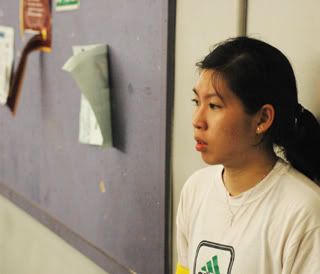 A moment of pause to calm the mind and get on with the challenge...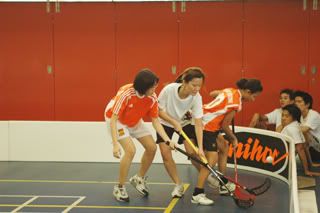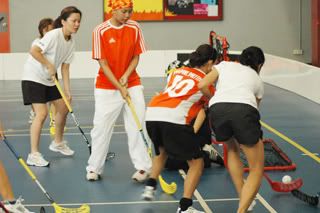 Giving their best!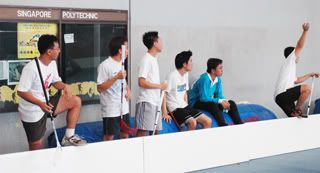 Supporters of the Ladies Team!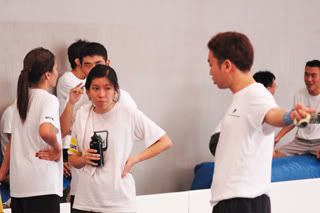 The coach strategising the match for the teams.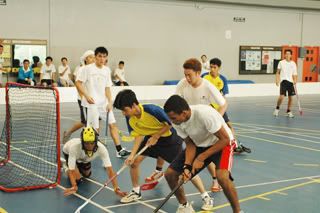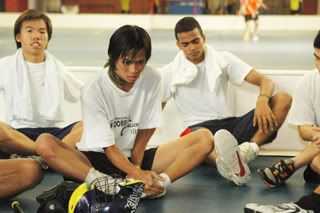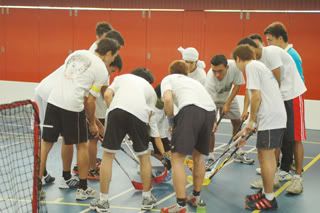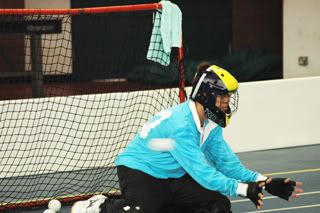 This here is one of the goal keeper for the Men and Ladies Team. Though unfamiliar with the position, he had blocked many attempts by the Singapore Polytechnic Team. Great effort and spirit there!
To end it off, the SIM Floorball Team has done a great job yet again and they will no doubt continue to look up in the future.
okie thats all from the Publication Team, if any of you guys out there are interested in Floorball, all are welcomed to join us. Regardless of skills, age, gender, or whereever you are from, just bring a happy mood and we welcome you to join us! For those interested and would like to find out more, you can e-mail us at:
simfloorball@hotmail.com
and we will reply you ASAP. Suggestions and comments on the site are welcome. You can check out the rest of the pictures at
http://photobucket.com/albums/v644/simfloorball/
So SIM or not you are all welcome! Hope to hear from you guys soon! Watch out for this site for our training and meeting schedules and venues as it will be updated constantly.*Many thanks to the Committee and also the Publication Team for managing the website and Photography.* Those who needs to save or use the pictures for any sites or personal use, please do e-mail us and get permission from the Publication Team. Thank you.
Publication Team